Phillies Week in Review 6/13 – 6/19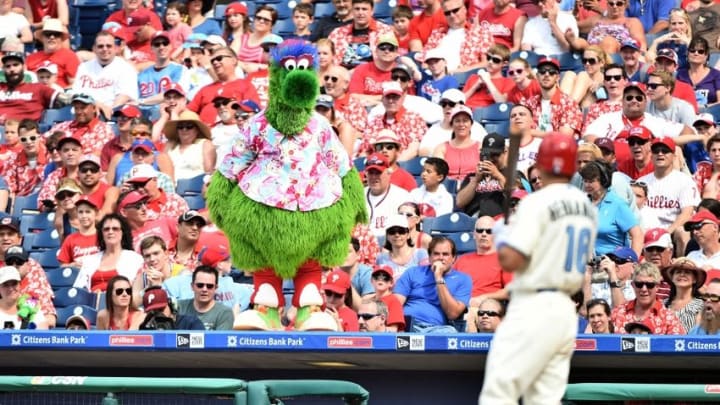 Jun 19, 2016; Philadelphia, PA, USA; The Phillie Phanatic watches as Philadelphia Phillies second baseman Cesar Hernandez (16) heads back to the dugout after striking out against the Arizona Diamondbacks at Citizens Bank Park. The Diamondbacks defeated the Phillies, 5-1. Mandatory Credit: Eric Hartline-USA TODAY Sports /
Jun 19, 2016; Philadelphia, PA, USA; The Phillie Phanatic watches as Philadelphia Phillies second baseman Cesar Hernandez (16) heads back to the dugout after striking out against the Arizona Diamondbacks at Citizens Bank Park. The Diamondbacks defeated the Phillies, 5-1. Mandatory Credit: Eric Hartline-USA TODAY Sports /
The Philadelphia Phillies suffered through perhaps their worst week of the 2016 season over this past week's series of games.
Abysmal might be too kind a word to describe the last week of Phillies baseball. The team is currently riding an eight-game losing streak, and everything from the hitting to the pitching to the defense (especially this play) has been just plain awful.
During the period of Monday, June 13th through Sunday, June 19th, the Phillies faced the Toronto Blue Jays in a home and home series. The first two games were held at the former Skydome, now known as Rogers Centre.
Moving south out of Canada, the Phillies and Blue Jays continued with a pair of games at Citizens Bank Park. That series was followed by a visit to South Philly by the Arizona Diamondbacks.
The week began on a positive note, with the Phils crushing the Jays by a 7-0 score. But it was all downhill from there. In losing the final six games of the week, Toronto and Arizona outscored the home side by an obscene 50-11 margin.
Nothing seems to be going right for the Fightins at the moment. Let's take our weekly look at the surging players (spoiler alert #1: not many) and struggling players (spoiler alert #2: pretty much everyone).
Next: PHILLIES SURGING BATS