Phillies Preview: at Minnesota Twins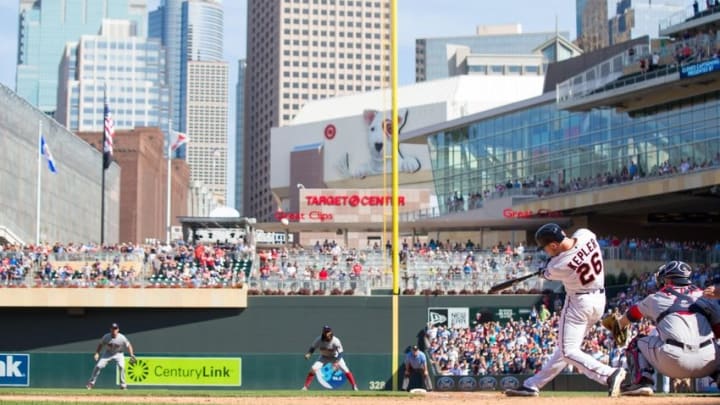 Jun 12, 2016; Minneapolis, MN, USA; Minnesota Twins outfielder Max Kepler (26) hits a three run walk off home run in the eleventh inning against the Boston Red Sox at Target Field. It was his first major league home run. The Twins won 7-4 in 10 innings. Mandatory Credit: Brad Rempel-USA TODAY Sports /
Jun 12, 2016; Minneapolis, MN, USA; Minnesota Twins outfielder Max Kepler (26) hits a three run walk off home run in the eleventh inning against the Boston Red Sox at Target Field. It was his first major league home run. The Twins won 7-4 in 10 innings. Mandatory Credit: Brad Rempel-USA TODAY Sports /
The Philadelphia Phillies begin a road trip with a three game series against the Minnesota Twins at Target Field.
There are titanic struggles between a pair of talented goliath's over the course of a Major League Baseball regular season schedule. This ain't that.
The visiting Philadelphia Phillies and the hometown Minnesota Twins are two of baseball's worst teams. They begin a three game series tonight at Target Field in Minneapolis.
As all local fans know, the Fadin' Phils have now lost seven straight, 10 of 11, and have gone 6-24 over their last 30 games to fall from the top of the division towards the bottom of the game.
The Twinkies have been even worse. Their 21-48 record playing out of the AL Central Division would place them eight games behind the Phils, were the two clubs in the same division. They have lost 14 of their last 20 games.
It would appear that something has to break in this series, but actually it does not. We could actually see a decent series of baseball games, as the two teams appear to be equally inept.
The Twins most consistent offensive performer this season has been a utility player, Eduardo Nunez. He has played equally at 3rd base and shortstop, as well as some 2nd base time. Nunez is hitting for a .321 average with a .351 on-base percentage, has nine home runs, 25 RBI, leads the club with 16 steals, and is tied for the team lead with 33 runs scored.
Brian Dozier is the Twins talented 2nd baseman having a down season. Dozier is hitting just .237 with eight homers, 26 RBI, and is tied with Nunez at 33 runs scored.
Robbie Grossman is getting time in right field and has produced a strong .289/.425/.536 slash line over just 120 plate appearances. Korean import DH Byung-ho Park has banged a dozen longballs, but hasn't done much else.
Two interesting Twins players are veteran 1st baseman Joe Mauer, who at age 33 is still dangerous. Mauer has a .276/.377/.402 slash line with seven homers and 26 RBI.
The other intriguing player is center fielder Byron Buxton. The top-ranked prospect in the game for a couple of years, Buxton has struggled in proving himself at the Major League Baseball level. Buxton is now hitting just .194/.228/.343 with one homer, four steals, and 11 runs scored over 116 plate appearances.
Paul Molitor, the Hall of Famer who terrorized the 1993 Phillies in the World Series as a member of the Toronto Blue Jays, is the manager with his hometown team.
When Molitor makes his calls to the bullpen, there have been mixed results. Former closer Kevin Jepsen was relieved of those duties with a 5.46 ERA, having allowed 38 hits over 28 innings pitched.
Brandon Kintzler is now doing the closing, and has two Saves with a 2.95 ERA and a 12/2 K:BB ratio over 18.1 innings.
The most effective reliever has been 26-year old righty Michael Tonkin, who has a 3.09 ERA and a 41/12 K:BB ratio over 35 innings. Lefty Fernando Abad has also been effective, with a 2.28 ERA and a 23/8 K:BB over 23.2 innings.
Minnesota leads this Interleague Series all-time by an 8-7 margin. Their last meeting was back on June 13th, 2013 at Target Field when Cliff Lee won to raise his record to 8-2 thanks to 8th inning RBI from Michael Young and Jimmy Rollins.
The Twins are finishing up a seven game homestand with this series, while the Phillies are just starting out on a three-city, nine game road trip that will take them out west to San Francisco and Arizona after they leave the Twin Cities.
Next: PHILLIES vs TWINS: PITCHING MATCHUPS