Phillies: Top 5 most overrated players in team history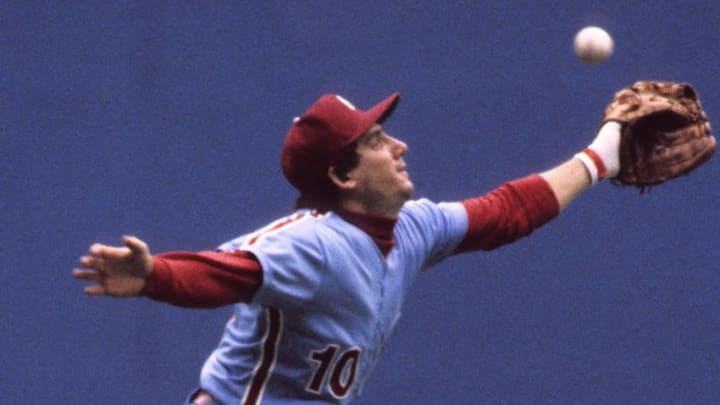 MONTREAL - OCTOBER 7: Larry Bowa #10 of the Philadelphia Phillies misses the ball during the National League Divisional Playoffs against the Montreal Expos at Olympic Stadium on October 7, 1981 in Montreal, Quebec, Canada. (Photo by Ronald C. Modra/Getty Images) /
(Original Caption) Philadelphia Phillie's pitcher Robin Roberts winds up for a fast one during a workout at the club's Clearwater Spring Training Camp here. Roberts is looking forward to another good year after racking up a 28-7 record in 1952–the best in both leagues. /
#2. Robin Roberts
The all-time "pitching WAR" leader for the Phillies, the very first player to be inducted to the "Wall of Fame", and even an MLB Hall of Famer, Robin Roberts is unfortunately unfairly rated.
Perform a quick Google search and you'll find list after list labels him as one of the best pitchers in baseball history. Many sites have him firmly planted as the second best Phillies pitcher of all time, positioned ahead of guys like Cole Hamels and Roy Halladay. While his WAR is obviously extremely high, the rest of his numbers paint a far different picture.
Across 14 seasons with the Phillie, Roberts posted an ERA of 3.46. That's not even good for top 35 amongst all Phillies pitchers. He even had five separate seasons where his yearly ERA sits above a 4.00. In his final year with the Phillies, Roberts finished up with a win-loss record of 1-10, while also posting a 5.85 ERA.
Roberts was selected to seven All-Star games, but even that has some controversy hovering around it. During his 1956 All-Star year, Roberts led the National Leagues in losses while simultaneously owning an ERA in the mid-4.00s. He led the MLB in complete games that year, but he also led the MLB in hits, earned runs, and home runs. Pitching for pitching's sakes doesn't necessarily make you an ace.
Roberts definitely had his moments when it came to pitching for the Phillies, don't get me wrong. He was dominant throughout his first couple years in the league and would regularly pitch complete games and shutouts. However, considering he did pitch predominantly in the 1950s, it was also deemed common to pitch all nine innings during a start.
Roberts WAR is no doubt inflated due to his heavy usage and longevity with the Phillies, and while that's not necceasrily a knock on him as a player, it's also not necessarily something that makes him better than all the other Phillies pitchers. When it comes to ranking the best Phillies aces of all time, he simply doesn't compare to that of Steve Carlton, Cole Hamels, Roy Halladay, etc.