Phillies: Top 5 most overrated players in team history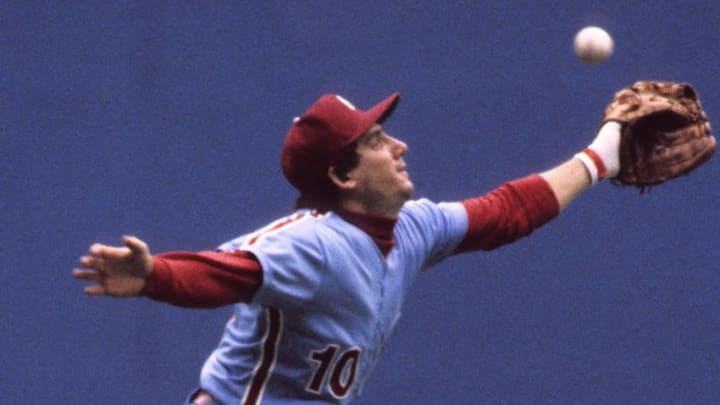 MONTREAL - OCTOBER 7: Larry Bowa #10 of the Philadelphia Phillies misses the ball during the National League Divisional Playoffs against the Montreal Expos at Olympic Stadium on October 7, 1981 in Montreal, Quebec, Canada. (Photo by Ronald C. Modra/Getty Images) /
PHILADELPHIA, PA – JULY 31: Past player Darren Daulton of the Philadelphia Phillies, waves to the crowd during the Pat Burrell "Wall of Fame" Induction ceremony before a game against the Atlanta Braves at Citizens Bank Park on July 31, 2015 in Philadelphia, Pennsylvania. The Phillies won 9-3. (Photo by Hunter Martin/Getty Images) /
#3. Darren Daulton
Another member of the Phillies "Wall of Fame", the former Phillies catcher of the 1980s/1990s really didn't have all that impressive of a playing career during his tenure with the team. His career .245 batting average and his measly three All-Star game selections tell the story of a player who was occasionally good, as opposed to routinely good.
Darren Daulton's first eight years with the Phillies were downright catastrophic. He hit under .200 twice and even saw his OPS dip into the .500s. Daulton was primarily used as a backup option during his first few years with the team, coming on as a defensive option when Lance Parrish or Ozzie Virgil. Jr needed days off. However even playing in the limited role that he was, Daulton's state lines were comparable to that of Andrew Knapp's.
Now the everyday starter behind the plate, Daulton broke through during the 1992 and 1993 seasons. He led the National League in RBIs with 109 during the '92 season, and then followed that up with 105 RBIs the next year. He was selected to consecutive All-Star games and it truly looked like the Phillies had found their next superstar catcher.
However, following his two stellar seasons, Daulton began experiencing serious knee problems. The injuries would limit his availability during his final two years with the Phillies. Daulton made one final All-Star game in 1995 (despite only finishing the season with 55 RBIs) before being traded to Florida in 1997.
While Daulton no doubt had some monster performances in 1992 and 1993, the rest of his Phillies career was largely forgettable. His inclusion in the Wall of Fame next to John Kruk and Harry Kalas of all people simply feels out of place.