Phillies: Three Reasonable Expectations for Jean Segura this season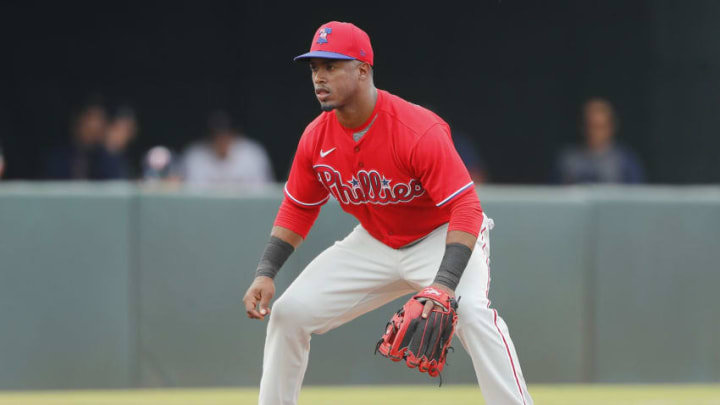 FORT MYERS, FLORIDA - FEBRUARY 26: Jean Segura #2 of the Philadelphia Phillies in action against the Minnesota Twins during a Grapefruit League spring training game at Hammond Stadium on February 26, 2020 in Fort Myers, Florida. (Photo by Michael Reaves/Getty Images) /
CLEARWATER, FLORIDA – MARCH 07: Jean Segura #2 of the Philadelphia Phillies in action against the Boston Red Sox during a Grapefruit League spring training game on March 07, 2020 in Clearwater, Florida. (Photo by Michael Reaves/Getty Images) /
Segura will adapt to third base
The primary challenge for Segura will be to learn a new defensive position.
Segura has the most experience at shortstop, with 899 career games, while his other appearances were at second base (137 games) and as a pinch hitter (15 games).
The expectation for this season is that Scott Kingery will get the brunt of second base duties, while Segura will be the primary third baseman, as Didi Gregorius is welcomed to the team at shortstop and Alec Bohm continues to work his way towards the majors.
Playing a new position on defense shouldn't affect his hitting. His percentages are great across the board, batting .321/.372/.505 as second baseman, .280/.319/.710 as shortstop and .286/.333/.357 as pinch hitter.
When it comes to fielding, Segura had one of the lower fielding percentages on the team last season, with a .963. By position, Segura has a .969 career fielding percentage at shortstop and a .985 fielding percentage in one season at second base.
Segura is fairly consistent from year to year when it comes to his fielding percentage. While third base will be a learning curve, he's had to adjust to a new position before and is now a veteran major leaguer.
In spring training, Segura spent his first game at third base, where he looked shaky in a couple of plays where he went after balls that Gregorius could have got.
Segura told MLB.com about playing third base that "it felt a little weird, but not too much. It felt OK. Not too bad. I was just rushing a little bit, trying to catch everything. I think the more I play there, the more I'll get used to it."
Manager Joe Girardi said that the plays don't look hard for Segura, it's the reads that he needs to work on and that "it's just communication."
On MLB Network's 30 Clubs in 30 Days, Segura spent some time with the network's Cliff Floyd and Phillies great Larry Bowa on a backfield to demonstrate and talk about playing at third base.
Segura mentioned watching the Oakland Athletics' third baseman Matt Chapman and his positioning, playing "way deep." He also told MLB Network that the change in throwing would be no big deal and that "I have to do the best I can for the team and (if) they want me to play third, I'm here."
With a positive attitude and lots of opportunity to practice, it's reasonable to expect Segura to adjust quickly to the new position once baseball resumes.