Phillies: 5 trades that won the 2008 World Series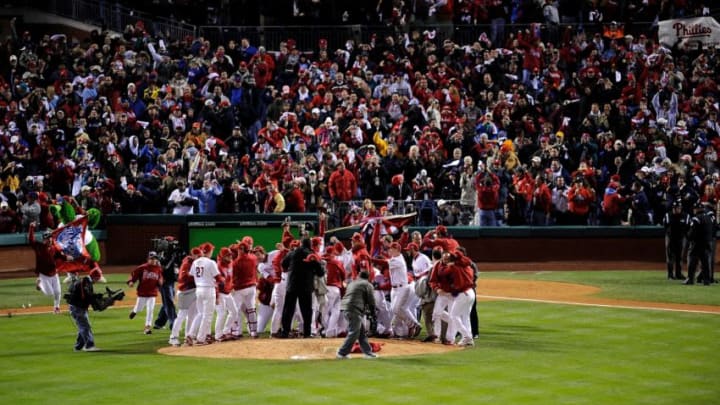 PHILADELPHIA - OCTOBER 29: The Philadelphia Phillies celebrate with their fans after they won 4-3 against the Tampa Bay Rays during the continuation of game five of the 2008 MLB World Series on October 29, 2008 at Citizens Bank Park in Philadelphia, Pennsylvania. (Photo by Jeff Zelevansky/Getty Images) /
CHICAGO – NOVEMBER 28: Jim Thome, traded to the Chicago White Sox from the Philadelphia Phillies last week, displays his new jersey at a press conference at U.S. Cellular Field on November 28, 2005 in Chicago, Illinois. (Photo by Jonathan Daniel/Getty Images) /
We start off with the two major trades that paved the way for Ryan Howard and Chase Utley's arrivals in Philadelphia. Hall of Famer Jim Thome's arrivial prior to the 2003 season is arguably one of the biggest free agent signings in Philadelphia history. Having already hit 334 home runs in 12 seasons with Cleveland, Thome not just brought power at the plate but to the city.
Thome oversaw the organization's transition from Veteran Stadium to Citizens Bank Park and helped lead the next generation of players. However, his presence was a blockade to Ryan Howard's full-time promotion.
After being limited to 59 games in 2005 Wade traded Thome to Chicago for three players and to clear the way for Howard, who would win Rookie of the Year and MVP the following two seasons.
Polanco was a much-less heralded player in the organization who came over in the Scott Rolen trade with St. Louis. After over 300 games with nearly as many hits, Polanco was moved at the trade deadline in 2005 to clear way for Utley at second base.
Wade didn't receive much for Polanco despite his ability to get on base, securing a utility infielder who played in 33 games for Philadelphia and a 31-year-old relief pitcher on the verge of retirement.
Despite getting little directly for Polanco, indirectly the organization got Utley on an everyday basis. That alone was worth everything.