Phillies Fans and the Under-Appreciation of Ryan Howard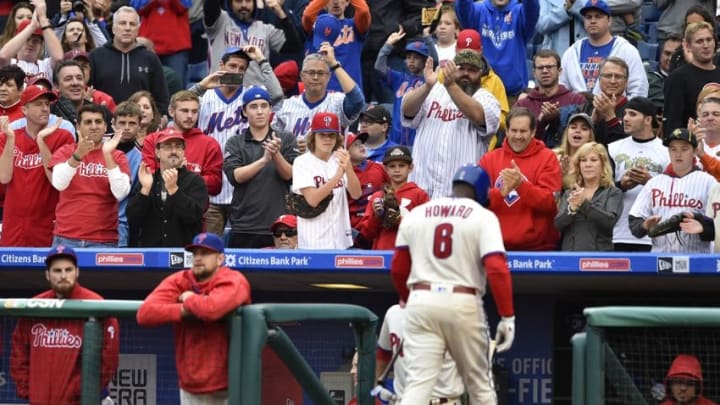 Oct 1, 2016; Philadelphia, PA, USA; Fans give Philadelphia Phillies first baseman Ryan Howard (6) a standing ovation after striking out during the ninth inning against the New York Mets at Citizens Bank Park. The Mets won 5-3. Mandatory Credit: Derik Hamilton-USA TODAY Sports /
Oct 1, 2016; Philadelphia, PA, USA; Fans give Philadelphia Phillies first baseman Ryan Howard (6) a standing ovation during his first at-bat in the second inning against the New York Mets at Citizens Bank Park. Mandatory Credit: Derik Hamilton-USA TODAY Sports /
Appreciating What Howard Has Done
In summary, Howard's more recent accolades amount to almost nothing.  It feels as if his career's descent was in direct parallel to the decline of the team as a whole.  And that tells me that Howard was the most important piece to that run.  I love Rollins, Utley, Cole Hamels, Ruiz, and the rest of that core, but Howard was the steam engine.
Take the blinders off for a moment.  Try to ignore the need to hate him.  Put aside the future for one more day.  And please, appreciate how great this man was.  For six seasons, we watched a player stride to the plate and every opposing coach, player, and fan knew the game could change with one swing.  The knee bend, back stretch, bat point, and relaxed stare struck fear into the hearts of every opposing pitcher for over half a decade.  Not many franchises have someone like that.
We did.  And all it took for us to turn on him was his signature on a piece of paper.
Thanks for everything, Ryan.
Next: Ryan Howard Belongs in the Hall of Very Good, But Not HOF