Phillies Fans and the Under-Appreciation of Ryan Howard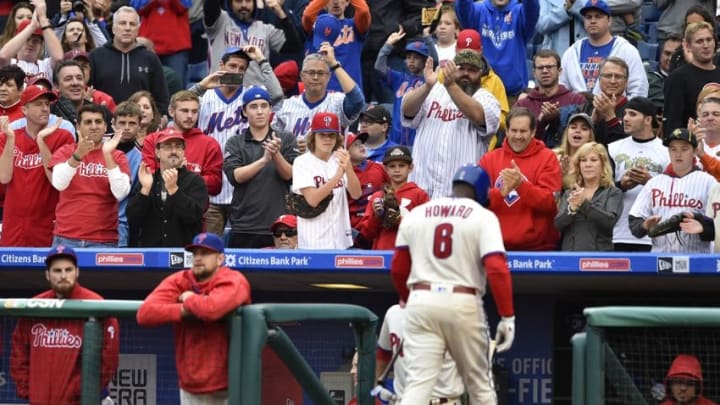 Oct 1, 2016; Philadelphia, PA, USA; Fans give Philadelphia Phillies first baseman Ryan Howard (6) a standing ovation after striking out during the ninth inning against the New York Mets at Citizens Bank Park. The Mets won 5-3. Mandatory Credit: Derik Hamilton-USA TODAY Sports /
Oct 1, 2016; Philadelphia, PA, USA; Philadelphia Phillies first baseman Ryan Howard (6) watches the ball after hitting a two-run home run during the fifth inning against the New York Mets at Citizens Bank Park. Mandatory Credit: Derik Hamilton-USA TODAY Sports /
Howard's Contract
And my absolute favorite argument against Howard finally gets its credit: his contract. The five year/$125 million contract he signed in late April of 2010 was universally seen as an albatross. What he has done during the length of the contract is absolutely not worth the money. I will not disagree with anyone on that end of the spectrum. The contract sort of embodies all of the hate for the once beloved first baseman.
More from That Balls Outta Here
"He gets paid too much to strikeout."
"$25 million on the disabled list again."
"I can't wait to have his money off the books."
No matter what conversation is being had about Howard, it always comes back to his contract.
However, right or wrong, Howard is being paid for what happened in 2006-2009. Again, I am not saying it is the smart business decision, but it is what they offered him. And as a wise man said, all he did was sign his name. Every one of us would have done the same thing.
Look at it this way, if Howard would have hit the market when he was supposed to, the Phillies may have had to pay him even more than what they did. He would have been out there with names like Prince Fielder and Albert Pujols who received contracts well beyond those of Howard's deal. It would have driven up the price on Howard. The front office could not have foreseen the injuries and did what they believed was best for the franchise in order to contend as it moved forward.